Jaydon Mickens selects WCM
Former Washington wide receiver Jaydon Mickens Selects NFL Agent
Lars Hanson - 23 hours ago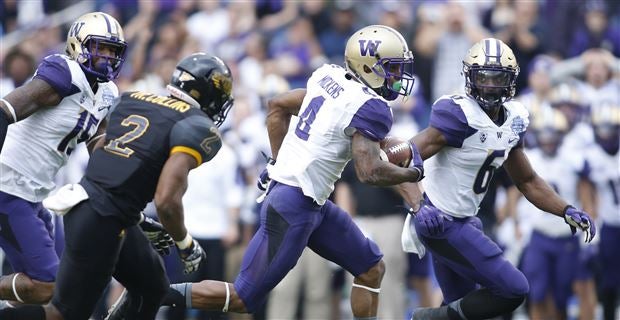 (Photo: Tim Heitman-USA TODAY Sports, USA TODAY Sports)
Former Washington wide receiver Jaydon Mickens chose his agent as fast he ran go-routes over the past four years. Brian Brundage, founder of Worldwide Career Management, will represent Mickens as he prepares for the 2016 NFL Draft over the next few months, Brundage told Realdawg.com Saturday. Matthew Scearce, Chief Executive Officer of WCM, will be Mickens' co-agent.
Mickens finished his career at Washington 6th all-time for receptions (145), one shy behind Austin Seferian-Jenkins who rewrote the tight end record books and made his mark on the overall receiving records in his three seasons at UW. Without slashing the record books in his four-year career, the former Dorsey High School (Los Angeles, Calif.) receiver left a lot of burn marks on the field with his electrifying speed.
His speed, along with then junior receiver Marvin Hall and sophomore John Ross, combined to create The Legion of Zoom, coined from the Seattle Seahawks Legion of Boom. It was Mickens' speed that impressed Brundage the most when evaluating him as a draft prospect.
"He's slated as the top slot receiver in the draft [and] he's one heck of a playmaker," Brundage said. "Great kid from an awesome family and a super hard worker."
In 40 games at Washington, 31 of which he started, Mickens hauled in 201 receptions for 2,175 yards and 12 receiving touchdowns. 26 of his receptions went for 20-plus yards while he caught 75 percent of passes thrown in his direction over his four-year career. Mickens added three rushing touchdowns over the the past two seasons to give him 15 total touchdowns in his UW career.
Mickens will train in Las Vegas, Nevada, with Travelle Gaines to work mainly on his speed. Gaines has several programs for athletes who are already in the NFL, as well as pre-draft programs which is close to what Mickens will be doing.
Author
---